Make Your House a Home: Custom Curtains & Upholstery
wjfigw4q3
https://secure.gravatar.com/avatar/8b3cd7157438a287bc2e2967f6bfc1f5?s=96&d=mm&r=g
Have you been dreaming of making your house a home? A space highlighted with sophisticated design elements, yet comfortable at the same time? If you've been considering it, there's no better time than right now. Your dreams of having that put-together look is one phone call away. With a free, in-home consultation, one of our expert designers will be your personal stylist for ideas, inspiration and guidance. Custom curtains, upholstery and more–we would love to design the room of your dreams. Looking to breathe new life into your home with contemporary appeal? During the month of October, save money while creating a designer look with Robert Allen fabrics.
Custom Curtains with Robert Allen Fabrics
Coordinated Living.
There's something that happens when custom curtains are added to a space–striking sophistication combined with smooth elegance. Bringing together the entire space, custom curtains coordinate style while adding valuable function and amazing benefits. The fabrics offer color, pattern and texture for a well-defined look. The atmosphere is influenced easily with custom curtains–created to provide just what you need for your home's unique space. Window dressing is truly an art form. With beautiful fabrics, like the exquisite look of Robert Allen fabrics, you can count on your personal stylist from Metropolitan Window Fashions to deliver your dream space.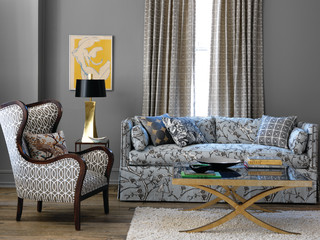 Statement Pieces.
Well-loved and full of character, furniture earns its place in our homes, and in our hearts. The comfort of a favorite arm chair, the softness of a cherished sofa–these pieces make your house a home. But what about style? Your treasured furniture has been made to last–and it has. But now that it feels like it's time for a change? Embrace it, and have fun. Your beloved furniture is still full of life. Custom upholstery lets you savor the features you love about your furniture with a refreshment of the style. The contemporary statement you can make with Robert Allen fabrics will give your home and belongings the makeover you've been waiting for!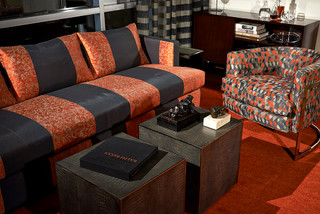 Zero Risk.
Chances are, you've seen upholstery pieces you love and found inspiration for custom curtains on sites like Houzz and Pinterest. But what about actually making it happen? If you're like most people, you might not have the confidence or vision to create your dream space. That's where we come in. Our design experts are here for you, listening to your ideas, considering the function and lifestyle needs of your space and guiding you with the latest style and information. We want to help you turn your design dreams into reality.
During the month of October, we have exclusive savings on custom projects, including 20% off Robert Allen fabrics and 20% off custom labor on upholstery for your next design makeover. Whether you want the flowing look of custom curtains, the sharp appearance of custom upholstery or an entire space designed for the perfect look, our team at Metropolitan Window Fashions is here for you. Contact us for a free, in-home consultation today!