Have you been inundated with back to school ads and commercials? It's practically impossible to escape the endless pitches for sales and savings. Even though there's a whole month of summer vacation left, back to school season is definitely in full swing. You know, though, advertisers are on to something. It does take time to prepare for the first day, and starting early has its benefits. Besides not having to comb empty shelves and racks days before your kids head back, getting ready for the new school year now makes the transition much easier for everyone. So, we have five back to school tips that'll have you and your family all set for when the first day finally does roll around.
#1 Get Back On Schedule
It's so nice to go with the flow in the summer. What kid doesn't love being able to snack in front of the TV, stay up late, and sleep in if they're tired? But those days are quickly coming to an end. As we all know, school means schedules. Your children will need time to get back to a regular routine. We know it can be a challenge for the whole family to switch over to three meals a day, a strict bedtime, and waking up earlier in the morning. That's why it's #1 on our list of back to school tips. In order to start the school year off with success, you need to ease your little ones into a schedule that will work with their school lives. If you start now, you can put them to bed and get them up a little earlier each week until you reach your ideal bedtime and morning wakeup time. You can also start phasing out snacking. Trust us, if you do these things gradually, it'll be much easier on everyone.
#2 Sleep Well
Your kids need to be well rested in order to do their best in school. Having a regular bedtime is a great start to helping them get a good night's sleep, but it doesn't end there. Your children's bedrooms need to be places that promote quality sleep. So, next on our list of back to school tips is to evaluate the sleeping conditions in your home and make any changes now. Bedrooms should be dark and free of even the smallest amount of light. Glowing and flashing devices are some of the biggest culprits for engaging the brain and interrupting sleep, so cover them or keep them out of bedrooms altogether. Noise can disrupt sleep too. If you live in a busy neighborhood or have a light sleeper, a sound machine can help your kids stay asleep and prevent multiple night wakings. Lastly, consider comfort. Could everyone use a new set of sheets and pajamas? What about a high quality pillow? Is the temperature just right?
#3 Get Organized
When school starts, you instantly have a lot more to do and a lot more stress. The last thing you need is to be frantically searching for missing backpacks, misplaced shoes, and lost lunchboxes as you try to get your family out the door in the morning. That's why number three on our tips for back to school list is to get organized. Setting up an organizational system now will save you a ton of time and cut back on your stress when the school bell rings. The best system will be one that your children can manage on their own. Shelves, cubbies, bins, and hangers are all possibilities for helping your kids to see that everything has a place and for teaching them to put everything in its place.
#4 Post a Family Calendar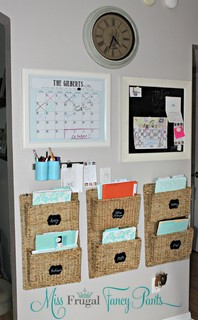 After the lazy days of summer, the flurry of activity that surrounds school can be overwhelming. You suddenly find yourself running kids to and from practices, trying to fit in homework, and scrambling to get some food in everyone before they head to bed. If you're lucky, you can all sit together at the table, but there's probably more than one occasion where dinner happens in the car or in the bleachers. Then, as if that's not enough, there's appointments, school activities, and birthday parties. You need a way to keep it all straight. A family calendar is perfect for that. Posting a calendar in a central location and updating it regularly with everyone's commitments is essential for your sanity when the school year begins. Once everything is noted, you can decide if it's manageable or if you need to cut back.
#5 Build a Smart Home
With all the running around that happens once school starts, wouldn't it be nice to know your home is comfortable and secure no matter where you are? The smartest tip on our back to school tips list is to build a smart home. This way, you can have touch-of-a-button control of your home from anywhere in the world. Installing motorized shades and blinds will change your life as you experience convenience like you never have before. Forgot to close your living room shades in the hectic morning rush? Tap a button on your favorite device and down they go. No more worrying about the sun heating up the room or your dog going nuts with all the foot traffic outside. Better yet, you can set and save scenes–like "bedtime" and "evening privacy"– and schedule your window coverings to adjust themselves based around your family's schedule. Then, you won't have to give your shades another thought. They'll always be in position to create the ideal atmosphere. Integrate them with appliances, lighting, heating, security systems, and more with Logitech's Harmony, The Nest, or many other home automation systems, and it'll be the best start to a school year yet!
As you shop, schedule, and plan for the new school year, remember to throw in some fun. Summer vacation isn't over just yet. There's still time to visit an Ample Hills Creamery location for an outrageous ice cream cone and to spend this month's Saturdays at the Summer Streets celebration. When you do get started on our back to school tips, if you need help, we're here for you. With blinds and shades that offer incredible function and amazing solutions, we can help you find just what you need to get your home and life in order. Start the school year off right by contacting our team at Metropolitan Window Fashions for a free, shop-at-home consultation.