Want to Spice Up the Look of Your Home? It's All About the Fabrics and Upholstery.
Is your home starting to feel like it needs a fresh look? It's the time of year when everyone starts looking around their homes, wondering what will do the trick to change up the look, to freshen the style. Fabrics and upholstery are the key to introducing new style and cutting-edge design. Our design consultants are ready, with inspiration and fabric swatches, to help you find the ideas that will bring a new look to your home. Wondering where to start? We can come to you for a free, shop-at-home experience, or you can stop into one of our showrooms to browse through fabrics and upholstery that will add the perfect accent to your home. During the month of January, save on the beauty of Fabricut Fabrics and the custom labor you'll need for your dream project. Need some ideas? Start with these…
Mix & Match for Style
The trick to adding personality to your home with upscale fashion is to rethink your current design elements, and change things up for a whole new look. At the windows, fabrics will add flowing dimension and layers of style in custom drapes and top treatments. The dining room will be the envy of all of your friends with a set of upholstered chairs that feature fabrics of different textures, patterns and colors to create your own look. Follow the same advice with accent pillows in the living room or bedroom. Mix fabrics for coordination, not a perfect match, and you'll love the result.
Make a Stunning Statement
Create a dramatic scene in your living room or entryway with a focal wall that uses fabric to make a style statement. Channel the 17th century with lush fabric tapestries to heighten the fashion of your space, as well as keep out the draft. In the bedroom, your bed is the ideal way to showcase your style with custom bedding and accent pillows in colors and textures you love. Want to go one step further? We love the look of custom upholstery on a headboard. It fills the space with a sophisticated air, and creates the focal point for the room. In your office, add an inspiration board–a simple bulletin board, covered in fabric and finished with trim or nail heads–as a place to dream and plan for life ahead.
Savor Family Heirlooms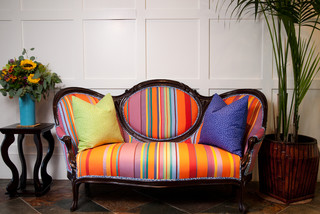 It can be a generous gift to receive an item that once belonged to a well-loved family member. But what if the years are beginning to show? What if you love the sentiment, but hate the fabric? There's no need to get rid of that treasure! Heirlooms that have been passed down from one generation to the next add such a comfortable familiarity, and they often have a great deal of life left in them. At Metropolitan Window Fashions, we use custom upholstery to bring new life to your favorite pieces.
It's time for you to add stunning style and fresh design elements to your home. Revitalize the look of your home and favorite accents with fabrics and upholstery that you love. Our design consultants can help you discover the right colors, textures and prints you are looking for. Contact our team, at Metropolitan Window Fashions, for a free, shop-at-home appointment today.