East Meets West with Ginger Jars–the Perfect Addition to Your Decor
In a beautiful exhibition, full of life and teaming with history, the Metropolitan Museum of Art featured impactful art and alluring design. China Through the Looking Glass was a storytelling showcase of the inspiration of Chinese culture on the Western World through fashion, art and decor. Since the event recently concluded, our team at Metropolitan Window Fashions NYC decided to bring you our favorite examples of ginger jars–an absolute must when considering a beautiful piece for your home. Traditionally recognized in blue and white–functioning as a storage container–the contemporary version has much more to offer.
Green with Envy
A statement is made with this green ginger jar, featuring a geometric pattern that catches the eye's attention and complements contemporary decor. Adding immediate style–this one even offers functional storage–ginger jars bring such charm to a space–think "Perpetual Conversation Starter."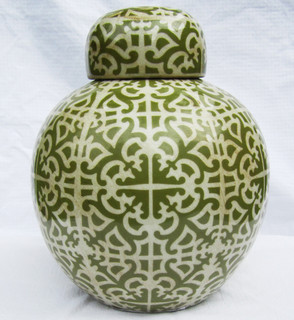 Details in the Design
We love this contemporary twist on old world charm, as the intricate detailing of the geometric shape cutouts draw the eye in mesmerizing blue. The modern look of metallic sheen on the cabinetry adds striking appeal to the neutral color scheme, for the perfect combination of East meets West.As an added detail, the towel on display brings tradition into the space with the original bright blue and white 'ginger jars' pattern.
Styling for Subtle Sophistication
Calm, with subtle sheen, the white glaze of the ginger jars in this scene offer beautiful additions to the space, while letting the bolder colors of other design elements take center stage. The white-on-white characteristics show the pieces–like sculptures of art, each one its own individual look, texture and shape. The perfect collection for this living room.
Traditional with a Twist
The storytelling of artwork in these ginger jars offer details and intricacies like the originals, but with a modern twist. As vases, these ginger jars offer function that allows for other pieces of decor to be added for dramatic contrast. Here, the yellow florals set the scene apart with a flowing pop of color.
Beauty is in the eye of the beholder, and we are loving the look of these collectible pieces. Whether you are looking to liven up your space, or add understated charm for a unique look, ginger jars are a collection worth starting. If you're looking to add artistic fashion to your home, from custom curtains to upholstery, our experts at Metropolitan Window Fashions NYC and New Jersey would love to help. We can offer inspiration and ideas to create a beautiful space you'll love. Contact our team, at Metropolitan Window Fashions, for a free, in-home consultation.