The Top 5 Bedroom Design Features
wjfigw4q3
https://secure.gravatar.com/avatar/8b3cd7157438a287bc2e2967f6bfc1f5?s=96&d=mm&r=g
Fall is in full swing. The days feel shorter, the darkness longer. Have these seasonal changes got you thinking about your bedroom design? Does the gloominess of autumn and increasing darkness make you feel like you need to spruce up your space? You're not alone. This is a time when we're all getting ready to cozy in for the chilly months ahead. And we all want to do that in a bedroom that feels gorgeous and design savvy. We've got the top five bedroom design features you need to consider when you're ready to make changes to your home.
#1 Your Personality.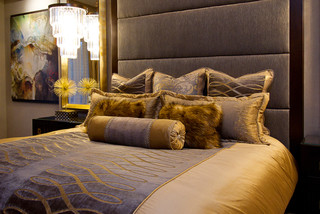 When you consider your bedroom design, the most important feature is that it speaks to your unique personality. One of the best ways to create the perfect space is to choose the colors and specific style you love. Are you most comfortable in the farmhouse style of cozy chic quilts and linens? Or do you love luxurious patterns in rich colors? Custom bedding and accents are a perfect way to achieve the look that you'll love. With coordinated fabrics, paint colors and accents, your bedroom will be the sanctuary you've always wanted. Let your personality shine.
#2 Layout.
The general rule, when arranging furniture in your bedroom design, is to stand in the doorway. Most of the time, you'll want to enter the room looking at the bed on the opposite wall. While that might not be the case in every room, the most important aspect is to create a "flow" throughout the space. It shouldn't feel disjointed and cramped–with the wrong layout, this can happen no matter the size of the space. You shouldn't have to walk around furniture to get to other parts of your bedroom. You might have to think outside the box and try out some different arrangements to see what works best. Changing up your bedroom design can add a whole new feel to the space, and you might be surprised at what looks best.
#3 The Perfect Accent.
A focal point, a dramatic statement piece…this is what can make your bedroom design look put together and polished. In bedroom design, there are a number of ways to do just that. The focal wall of your bedroom could be an accent wall of vibrant color, elegant wallpaper or textured material. You could choose a custom headboard that fits your style. Artwork can be selected to add inspiring design and color. When choosing elements of your bedroom design, adding stunning pieces that fit your style is key to creating the perfect space.
#4 Organization.
Your bedroom should be a peaceful place where you can relax. But, that means something different for everyone. Do you love to sit and read? Is your bedroom the area of your home where you spend time with a cup of coffee in the morning? Is it your getaway from the household chaos so you can pay bills and online shop? Organization is key–no matter what. Make sure you have furniture, built-ins and closet space that adds function to the bedroom design. It will help you feel refreshed to have everything in its place, and you won't spend all of your time cleaning it up.
#5 Darkness.
How would you rate the ability for you to get quality sleep in your bedroom? Sleep allows you to be productive and happy–a good night's sleep can help you boost immunity and reduce your stress levels. Your bedroom should be outfitted with the latest features in window treatments. Have you seen recent innovations? Room darkening fabrics can block the incoming light. A second, blackout roller shade can be added to sheer and light filtering window coverings. Lowered in place, your bedroom will be completely dark–even during the day. When raised, you can enjoy the soft glow that comes in through sheer fabrics.
Need Help with Your Bedroom Design?
That's where we come in. Our design experts, at Metropolitan Window Fashions, can help you create the bedroom design that only dreams are made of! Whether you need advice on starting a small project, like updating upholstery, or you want someone to help you oversee the makeover of your bedroom, we're here for you. Come visit us at one of our exclusive Hunter Douglas galleries to get inspired and see all that's possible in fabrics and window treatments. Or, invite us to your home for a free, in-home consultation. Contact our team to get started today!